Date/Time
Date(s) - June 19, 2018
16:00 - 18:00
Location
European Roma Institute for Arts and Culture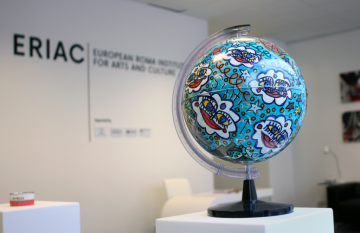 The Roma are the biggest ethnic minority in Europe whose history and culture are an inseparable part of European and national cultural landscapes. Yet, Roma cultural heritage is rarely acknowledged and included in the canon of collective European narrative. The European Roma Institute for Arts and Culture (ERIAC) was launched on June 8th 2017 and is located in Berlin. It aims to show the Roma cultural heritage for what it really is – a collective, diverse and beautiful part of Europe's cultural legacy, and a patrimony of national cultures and histories, which needs to be protected and cherished.
ERIAC invites participants of the European Cultural Heritage Summit 2018 to a discussion about the importance of Roma arts and culture as a part of the European cultural heritage. The event will provide an opportunity to discuss the current status quo with regards to Roma cultural heritage recognition, as well as point to opportunities and novelties in the contemporary Roma arts and culture scene in Europe.
Program:
Introductory lecture "ERIAC's role in preserving and promoting Roma cultural heritage" by Timea Junghaus, art historian and Executive Director of the European Roma Institute for Arts and Culture (ERIAC)
Guided curatorial tour through the current exhibition in the ERIAC Art Space "The Roma Spring: Art as Resistance" by dr. Anna Mirga-Kruszelnicka
An open discussion with the participants/ questions and answers
Event language is English.
No registration fees but limited seats are available. Registration is required on www.eventbrite.co.uk