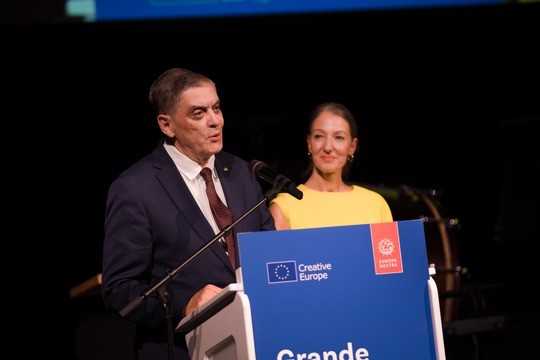 At a festive award ceremony on 29 October 2019 at the Théâtre du Châtelet in Paris, RomaArchive, the digital archive of the Sinti and Roma, was awarded a Grand Jury Prize worth €10,000 at the European Heritage Award / Europa Nostra Awards. The prize was awarded by Plácido Domingo, President of Europa Nostra, and Tibor Navracsics, European Commissioner for Education, Culture, Youth and Sport.
"The theme of this research is essential for the history of the people of Europe," the jury said in its statement. It goes on to say: "With 12 million people, the Roma are the largest and least noticed minority in Europe. This archive is particularly innovative because it focuses on the self-representation of Roma identities, expresses both material and immaterial aspects of this heritage and distances itself from the stereotypical perceptions of Roma."
Romani Rose, Chairman of the Central Council and the Documentation and Cultural Centre of German Sinti and Roma, stressed in his acceptance speech that Sinti and Roma have been an integral part of their respective home countries for centuries and have shaped European culture there through their contributions. He addressed his thanks to the project initiators Isabell Raabe and Franziska Sauerbrey and explicitly to the jury:
"I am here today to thank Mrs Raabe and Mrs Sauerbrey for their initiative to bring back to international consciousness the cultural contributions of our minority in Europe that they have made in their home countries for 600 years. […] I would particularly like to thank the jury, which has also recognised our culture by awarding this prize."
Background:
European Heritage Awards / Europa Nostra Awards
The EU Prize for Cultural Heritage / Europa Nostra Awards (from 2019 European Heritage Awards / Europa Nostra Awards) has further strengthened the cultural heritage sector in Europe by highlighting best practices, promoting cross-border knowledge sharing and supporting networking between different stakeholders in wider networks. For the winners, the awards bring many benefits, such as greater (inter)national involvement, follow-up funding and increased visitor numbers. In addition, the awards have raised public awareness of our common heritage and highlighted its intrinsic European character. The awards are therefore an important tool for promoting Europe's heritage.
Europa Nostra is a pan-European association of heritage conservation NGOs supported by a wide network of public institutions, private companies and individuals. Founded in 1963, Europa Nostra is now considered the most representative cultural heritage network in Europe. The world famous opera singer and conductor Plácido Domingo is the president of the organisation.