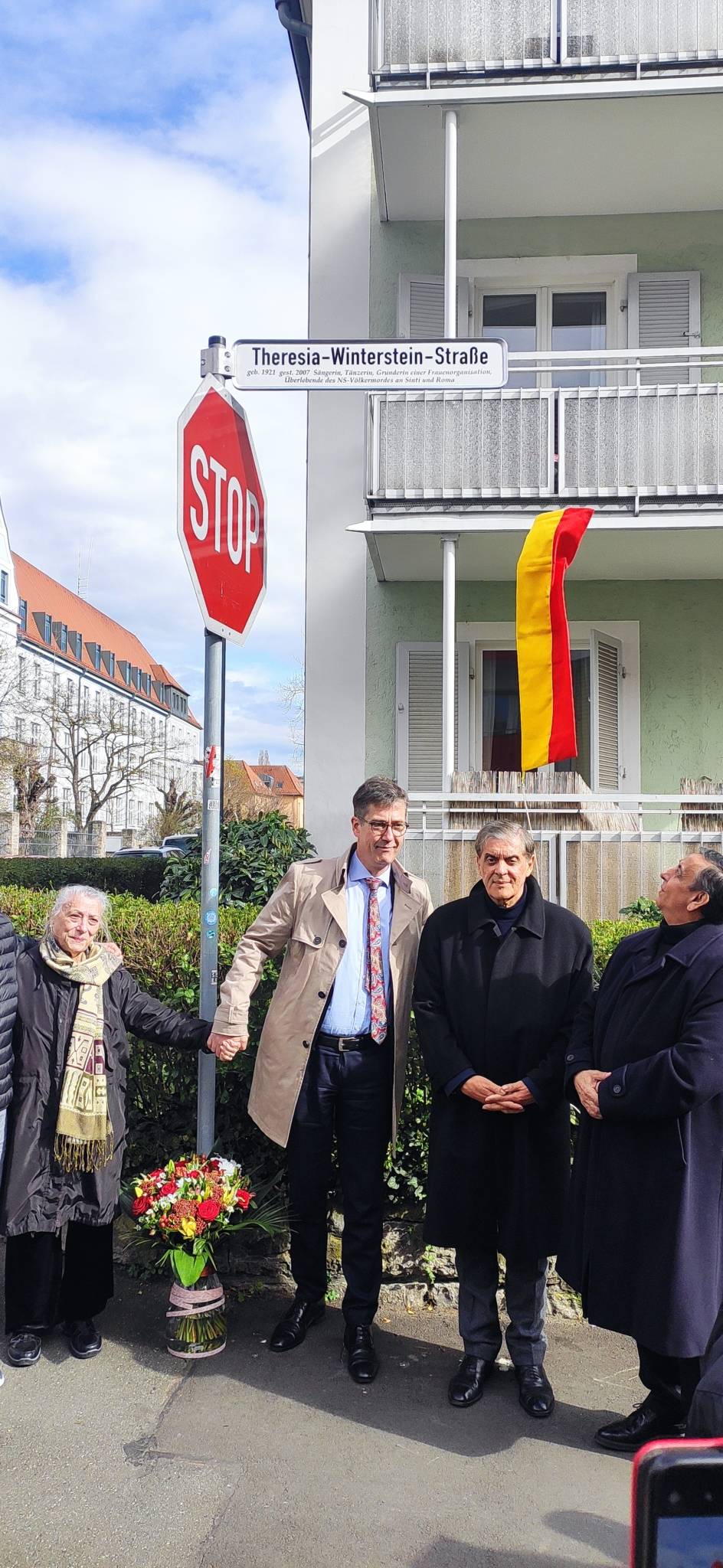 The Central Council appreciates that the city of Würzburg has decided to rename a street after the Nazi survivor and Sintezza Theresia Winterstein. To mark the occasion, the street sign was unveiled yesterday, March 29, 2023, in a ceremony attended by the Mayor of Würzburg Christian Schuchardt, Romani Roses and Theresia Winterstein's daughter, Rita Prigmore.
Theresia Winterstein, who was born in 1921 and was a successful singer at the Würzburg City Theater and on an operetta stage in the 1930s, was a survivor of the genocide of 500,000 Sinti and Roma in Europe, which also affected many Sinti families from Würzburg. After the Nazi era, she was active as a civil rights activist and worked towards more understanding, for reconciliation and for the recognition of the Holocaust against Sinti and Roma. She also founded a women's organization.
Romani Rose paid tribute to Theresia Winterstein's commitment in his speech: "It was always important to Theresia Winterstein to reach out to the post-war generations while eduacting about the Nazi crimes. She always spoke out for understanding and reconciliation." He also expressed his appreciation to Rita Prigmore for taking up her mother's life's work and continuing to work for education about the Holocaust and reconciliation.
The Central Council of German Sinti and Roma welcomes the fact that the city of Würzburg consciously faced up to its history with this street naming yesterday and honoured the commitment of an important citizen of its city with the renaming.
The ceremonial unveiling of the street sign was attended by the Mayor of the City of Würzburg Christian Schuchardt, the survivor of the genocide and daughter of Theresia Winterstein, the civil rights activist Rita Prigmore, as well as the Chairman of the Central Council Romani Rose and the Chairman of the Bavarian State Association Erich Schneeberger.